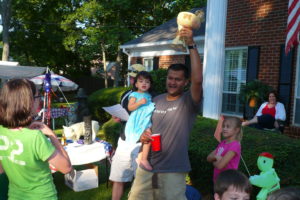 ---
So you want to cook?  Here are the basic's
Grilling is onsite except for special pre-approved circumstances.
Setup must be done by 2:30 and meat on the table by 3:30
All voting and meat service for the general public starts at 4:00
Voting closes at 6:00. Around 6:30 once the votes are counted the awards ceremony begins
---
Popular Choice Catagories
The below categories are chosen by popular choice:
2017 Classes:
Best Bird – if it flies and you can put it on a BBQ your game
Best Boar – If you have to ask – you don't know
BBQ Best Beef – Moooo
Best Ribs – They are so popular they have their own category!!
ROF – Rest of the Field (if you don't directly fit into above or any of the above have less than three competitors you're rest of field…past examples include shrimp, trout)
Most Creative – Soo – you think you are special
Best Stew or Chili
Best Display
Best Homemade Sauce
Exotic – As a base rule, if you can't find it on a menu, your local meat shop, or something else that makes everyone hmm not sure about that one.
Best non-meat dish (Side)! Due to the overwhelming success of this new category in 2011 & 2012 we are going to continue it again.  This category up's the ante and recognizes the hard work that goes into the sides, desserts, etc. this year we will be giving a new award to celebrate the "other dishes" that do not participate in the main meat categories above.
---
Celebrity Judges Choice:
The Celebrity Table consist of 3 judges.  They choose the best overall dish and presentation.  This will be based on the following:
Review each teams display and inspiration or story behind the meat
During the tasting, they will have a table where the competitors will present their dish
Taste each competitors dish
Score each dish
Agree to 1 winner for the Celebrity Judges Award
---
Sargent at Arms:
As a new cook, you will want to get to know the Sargent at Arms.  This individual will:
Work with cooks when they arrive to help get them setup.
Ensure each competitor has an opportunity to present their dish.
Provide updates to the crowd regarding status and count down to the tasting time.
General organizational help
---
Soo you think you have what it takes?
If so, use the "Contact Us" form and throw your name in the hat!